Hard surface flooring is installed in residential and commercial buildings for durability and longevity.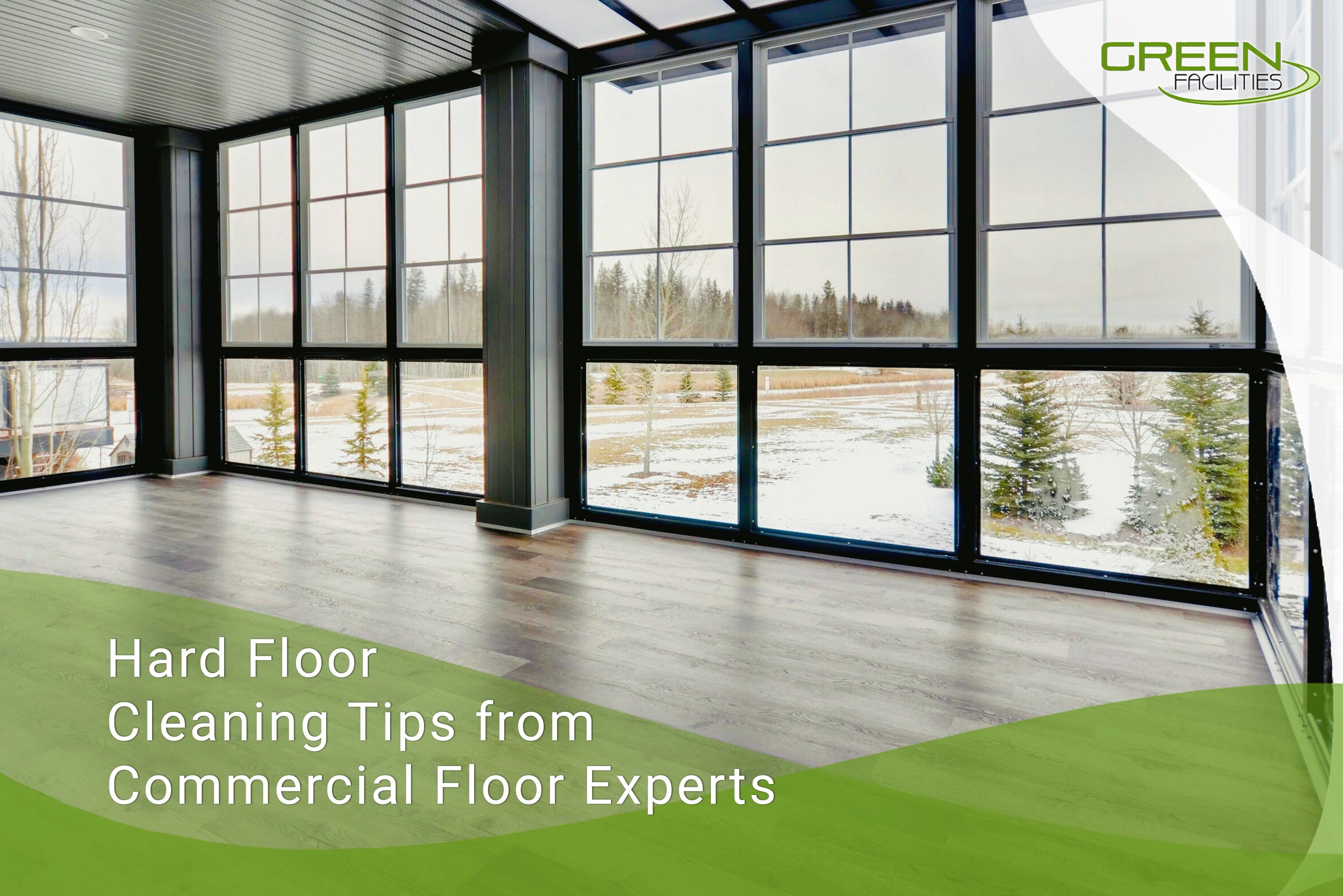 Hard floors will last for decades if they are professionally cleaned and maintained on a regular basis.
Green Facilities cleans the following hard surface floors with eco-friendly products to keep floors looking fresh and natural.
Granite
Terrazzo and Marble
Hardwood
Vinyl, Laminate, and Linoleum
Tile
Concrete
All of these floors need a good professional cleaning depending on their usage. We advise commercial building owners and homeowners to use rubber mats at entrances to protect floors from mud, grime, leaves, and other matter that sticks to the soles of shoes.
Types of Hard Surface Floors
Granite is made from igneous rock, the hardest substance for flooring. It is available in an endless variety of colours and designs making it one of the most popular floor and counter coverings. Granite is easy to maintain with sweeping, brushing or washing with a mild detergent.
Tile is commonly used for floors and counters. Tiles can be porcelain, granite, terrazzo or travertine. The tiles must be carefully installed and grouted for a complete seal. Non-slip tiles are used for kitchens, bathrooms and other rooms of a house. Tiles of granite and other products are also popular for commercial buildings due to their beauty and versatility as well as easy maintenance.
Colourful travertine tiles are also used outdoors as pavers. This is a porous limestone product that is polished and filled with resins to make it harder and more durable.
Terrazzo is a combination of concrete with colourful marble chips. This is a non-porous floor that is very resilient. Marble, however, is porous and water can seep into the sections of the surface. This makes it vulnerable to stains from dirt, food, and spilt drinks. Terrazzo is an alternative used extensively in commercial buildings because it is attractive as well as easy to maintain.
Vinyl and laminate are less expensive alternatives to natural and manufactured stone or tile surfaces. Many of the vinyl products resemble wood or stone. Vinyl floors are 100% synthetic and waterproof. The laminate includes wood fiberboard under the printed synthetic top. These hard floors are easy to clean and used extensively in kitchens, bathrooms, family rooms and commercial buildings.
Linoleum is a natural composite product that resembles laminate and it is making a comeback in homes. It is often used for restored floors in older homes. Linoleum is not interchangeable with vinyl although the two products are often considered the same. It is a sustainable natural product derived from linseed oil mixed with cork flour, limestone, wood flour, and pine rosins. It is durable, yet biodegradable. Colours are limited. Although it not as easy to cut as vinyl, it is increasing in popularity since it is a "green" product.
Concrete is used in manufacturing and commercial buildings where people and vehicles are likely to leave dirt and oil tracks. Concrete can also be painted and used in residential buildings. This is a surface that often needs a deep cleaning.
Wood is in a class by itself. This is probably the oldest type of resilient floor coverings. Historic homes usually have hardwood floors with the patina of age that stimulates the imagination. What famous feet have walked across these floors?
Suspended wood floors are used for dance studios, stages, and gymnasiums. New hardwood is often installed in homes and some offices where the texture and colours of the natural product are important design elements.
Wood must be carefully maintained, buffed and sealed. Old planks can be replaced with new ones that match the original colour and texture.
Cleaning Stone Floors
Regular maintenance of granite, terrazzo, and other stone floors requires only washing with water, a soft mop or sponge mop, and a mild pH-balanced detergent. All spills must be wiped up immediately before washing. It is also a good idea to sweep the floor before the liquid is applied. Wash the floor carefully and do not let water puddle. Let it dry completely before it is used again.
Follow the directions on any cleaning products recommended for your stone floor. A professional cleaning service will use a machine that cleans and polishes the floor.
Wood Floors
Hardwood floors occasionally need to be stripped and resealed. This is a job for a professional floor restoration service.
Hardwood floors can be easily cleaned with a soft microfibre brush or mop. The floors should be swept continually to remove dirt and dust. Sweep under furniture and in corners. Wood floors should also be professionally cleaned and polished to restore their natural beauty and texture.
Vinyl and Laminate Floors
Vinyl and laminate are made from toxic chemicals, mainly polyvinyl chloride resin. Both products are durable and flexible. Vinyl and laminate flooring can be installed in sheets or tiles. Vinyl comes in different thicknesses and an endless selection of printed patterns, styles, and colours. It is very easy to clean and it will last for decades. The surface of both products cleans with mild soapy water and a mop.
Linoleum is also cleaned with a microfibre mop and soapy water. Professional cleaning is usually recommended after heavy use for vinyl and linoleum.
Concrete Floors
Concrete floors in garages and areas that attract heavy dirt, oil, and grease can be pressure washed. Detergents can be used to clean concrete basement floors.
Painted concrete floors should be cleaned with a mild soap and sponge mop. Scrub out stains with a stiff brush. They will benefit from professional cleaning that will remove stains.
General Floor Care
No matter what type of hard floor you have, you must still take care of it. Use castors or pads under furniture as you would with a carpeted floor. Do not drag furniture or appliances across hard surface floors. This can scratch wood and some stone surfaces and rip vinyl or linoleum. It will even leave marks on stone floors.
All hard floors need professional cleaning at some time. This especially important in restaurants, hospitals, laboratories, health clubs, medical offices, schools, and leisure centres. Homes, condominiums and flats need to have their hard surface floors professionally cleaned as well. A professional cleaning from Green Facilities Management Ltd will sanitize your floors without using harsh chemicals. Contact us today for a free estimate of our services.