Searching for the best ways to clean hard-surface floors in London? Cleaning any hard surface flooring is quite a challenging task, especially if you have multiple flooring types in your office. Different types of floors need different methods of cleaning. Therefore, it is essential to use the right cleaning approach to get the best results. Below mentioned are some of the most useful tips to clean hard-surface floors, have a look: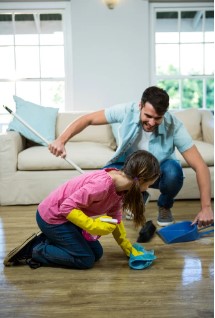 Always sweep or vacuum your floors before cleaning

Make sure to vacuum your floors every week so as to protect the finish and to keep up the appearance of the floors for long

In order to keep the tiles stay nice and shiny, mop your floors with warm water once a week

Use products that are non-toxic and safe to use for cleaning purpose

Make certain to clean up any spills or stains promptly
Beyond routine dusting and damp mopping, it's necessary to take the help of a professional cleaning company in London to improve and maintain the appearance of your office floors.
Contact us at 0800 044 5795 for all your cleaning services. Mail us at info@greenfacilities.co.uk