A clean space is a happy space. There are many details that go into making a business successful, and cleanliness is one of them. You may not realize it, but the cleanliness of carpet can impact how customers and clients view your business. It can also improve the efficiency of staff when they have a clean workspace. At times, it can even become a safety precaution to ensure everyone has safe air to breathe.
When deciding whether to deep clean the carpet in your office or hire a professional company to do it for you, look at the perks of having professional help and weigh them against reasons you're hesitating.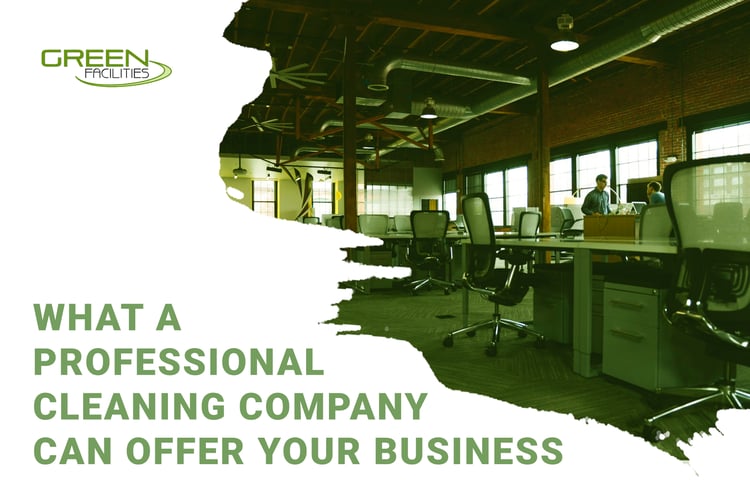 What Is Commercial Carpet Cleaning?
Commercial carpet cleaning is the process of bringing in specialized equipment to remove stains, dirt, and debris from the carpet in an office. Many companies will bring in a truck-mounted system that uses heat, water pressure and a strong vacuum to restore your carpet's cleanliness.
Other companies will use a heavy-duty encapsulation machine that uses chemicals and a rotary brush to loosen the dirt. They'll then use a vacuum to extract that dirt. Overall, each company has a special process to ensure your carpet is clean and help extend the life of it.
Choosing A Cleaning Company
When hiring any company to perform a service, there are essential steps to choosing the company offering the best option. That's no different when it comes to having a professional carpet cleaner come in. You want to look for a company that offers industry experience while maintaining happy customer reviews. How they've treated previous customers shows you how they'll treat you.
Research their cleaning methods to see if they use the equipment that best suits your needs. If the equipment isn't environmentally friendly it could cause harm to you, your staff, and those around you. Last, but most important, compare their pricing with the competition. Sometimes it's better to pay a higher price to make sure the job is done properly, but you always want to make sure that paying more isn't leaving you paying too much.
Benefits To Look Forward To
Save Valuable Time
Look forward to saving yourself valuable time when you seek out the help of a professional carpet cleaning team. While they take care of removing dirt and stains from your business' carpet, you can focus on more important duties. You can take the time you would've spent cleaning to prioritize the major jobs you need to finish. Meet deadlines, attend to meetings, prioritize calls, and tackle other jobs on your to-do list. When you finish up, go home and relax knowing that the professional team has the carpet cleaned.
Keep up Appearances and Improve Impressions
Appearances go a long way when it comes to running a respectable business. If your office space isn't clean it can often create an image of laziness. It can also make potential clients view the uncleanliness as a hint to how you'll take care of their business. You don't want that. With clean carpet, you'll improve impressions and it'll feel more comfortable for everyone in the office.
Stress Less
Work comes with a lot of tasks each day. Having to worry about cleaning the place up can be stressful. When you hire a professional carpet cleaning company you can stress less knowing you have one less thing to worry about.
The comfort of knowing it's Done Correctly
Professional cleaning companies make such a big impact because they have specialized equipment to do the job. When you hire them they bring you top-notch service that thoroughly cleans carpet and leaves the area feeling fresh. By reviewing their experience and understanding the equipment they'll use to, you'll end the day knowing the job is done correctly. Additionally, this leads to better air quality for guests and for yourself.
Improve Air Quality
When dirt gets trapped in carpet fibres and later released into the air, it has a tendency to cause odours. That bad smell that you can't seem to locate can be bad for business. On top of that bad smell, that dirt can be incredibly unhealthy to breathe in throughout the day. It can lead to respiratory infections and leave good workers feeling ill.
Having better air quality is nice on the lungs. When you breathe better you feel better, and that can improve your ability to do your job. Whether it's for safety or it acts as a benefit to everyone working, removing the dust and debris from commercial carpet can improve the air quality for everyone.
Often Should You Have Your Carpet Cleaned?
Routines are majorly effective with a successful business, and that includes those carpet cleaning routines. Depending on the foot traffic, your need for routine cleaning will vary but it's still important to have. For areas that see the most traffic, it is recommended that you have a professional cleaning twelve to twenty-four times a year.
Having the carpet in your office cleaned at least once a month is ideal. For areas that see traffic pretty often but aren't overused, usually hallways or administrative offices, a quarterly cleaning should do the trick. If there's an area with minimal traffic, such as a private office or a conference room, you can usually rely on a deep cleaning twice a year.
Find Office Cleaning Services Near You
As you begin your hunt for the top professional carpet cleaning company in London, contact us. At Green Facilities we bring you commercial cleaning with high-quality results. Our management team has 20 years of combined service experience to ensure you are always satisfied when we finish the job.
With our cleaning strategic you'll see improvement from employee productivity, reduce your carbon footprint, and feel at ease knowing you have a clean space. We also offer deep discounts on any periodic cleanings to show our appreciation and add value to your choice in using us for your carpet cleaning needs.
Should you have any questions or concerns, don't hesitate to reach out to us online or give us a call at 0800 044 5795.