The business world is becoming more focused on increasing sustainability and environmentally friendly products, but is it really that big of a deal? As it turns out, it is.
According to IMD, more businesses are thinking about whether sustainability really matters and how to implement it, and it's easy to see why. Sustainability helps reduce waste and focuses on using products that are environmentally friendly.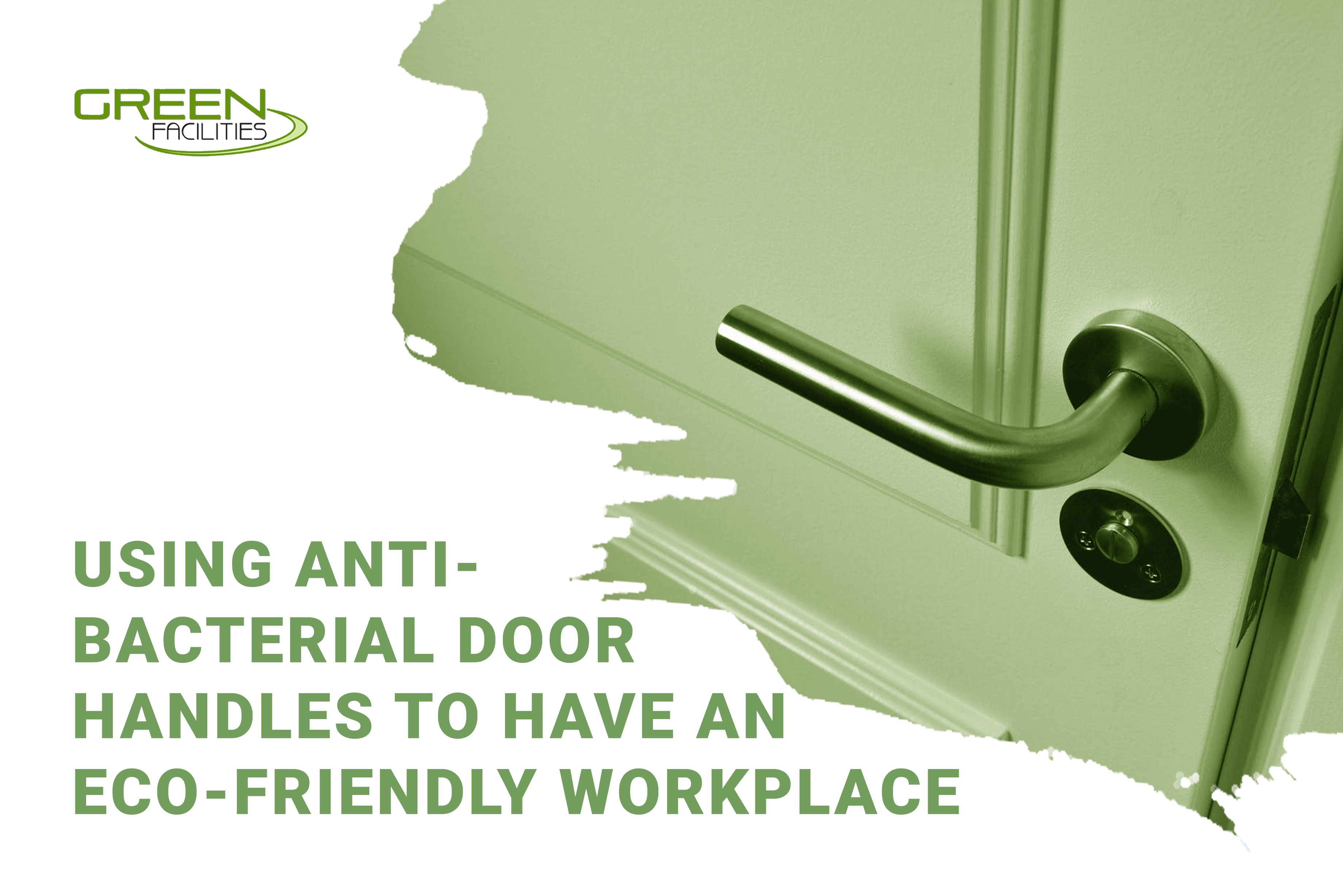 This may not seem like a big deal at first glance, but many of the products we have enjoyed in the past is harming the environment. From global warming to polluted oceans, the earth is rapidly changing, and not for the better.
Thankfully, Green Facilities has a solution to help your business, and it's as simple as using an anti-bacterial door handle. Here's why these simple little door handles can help you prevent the spread of germs as well as becoming more environmentally friendly.
Not all cleaning products are created equal
It's no secret that cleaning door handles is necessary, but what many may not know is that the ingredients in most commercial cleaning agents cause serious health problems.
It's bad enough to use toxic materials on a counter, but it's even worse when you're grabbing the handle with your hand, and then later grab something to eat. You may have just ingested something that's worse than many of the common germs found on door handles.
Just check out the ingredients in some of these products, and how it's impacting the environment as well as your own health.
Phthalates
Perchloroethylene or "PERC"
Triclosan
Quarternary Ammonium Compounds, or "QUATS"
2-Butoxyethanol
Ammonia
Chlorine
Sodium Hydroxide
1. Phthalates
Check the label all you want, but you may not find phthalates on it. Legally, companies aren't required to disclose it even though it's harmful to humans.
Experience Life reports, "Phthalates are known endocrine disruptors. Men with higher phthalate compounds in their blood had correspondingly reduced sperm counts, according to a 2003 study conducted by researchers from the Centers for Disease Control and Prevention and the Harvard School of Public Health."
The most common way to be exposed to phthalates is by breathing it in, but there are other ways to come into contact with it such as scented soaps, toilet paper, dish soaps, and air fresheners.
If you want to know if phthalates are present in your products but worry that it won't be listed on the label, look for the word 'fragrances.'
2. Perchloroethylene or "PERC"
PERC is a known neurotoxin, and researchers suspect that it may also be a carcinogen. It can be found in carpet and upholstery cleaners, spot removers, and dry-cleaning solutions. Like phthalates, humans are exposed by inhalation.
3. Triclosan
There are many types of drug-resistant bacteria out there, and triclosan may have a major role in that. It's a very aggressive anti- bacterial agent common in hand soaps and liquid dishwashing washing powders. Researchers have also found triclosan on rivers and lakes, where it is wreaking havoc on algae. If the label says 'antibacterial' chances are it has triclosan.
4. Quarternary Ammonium Compounds, or "QUATS"
QUATS is an antimicrobial that is found in fabric softener liquids and sheets. It is believed to be one of the leading causes of dermatitis, since it is a skin irritant, and may also cause asthma.
5. 2-Butoxyethanol
This chemical belongs to a group of glycol ethers. It's usually added to all-purpose cleaners as well as household and window cleaners because it has a pleasant smell. It can cause sore throats, severe liver and kidney damage, narcosis, and pulmonary edema.
6. Ammonia
While some chemicals require prolonged exposure before the side effects are known, Ammonia makes itself felt right away. Many people develop chronic bronchitis and asthma from prolonged use. It's also deadly when mixed with bleach. Ammonia can be found in polishing agents for jewellery, sinks, bathroom fixtures, and glass cleaners.
7. Chlorine
It's no secret that it's important to bathe, but your water may contain chlorine, especially if you live in a city. Chlorine is used to kill bacteria, which seems great, but it has some long-term effects that build up over time. Long-term exposure may disrupt your thyroid. Not only is chlorine in your tap water, it can also be found in mildew removers, toilet bowl cleaners, laundry whiteners, and scouring powders.
8. Sodium Hydroxide
This is probably the most dangerous chemical on this list. Sodium hydroxide is a corrosive found in drain openers and oven cleaners. If it comes into contact with your skin or eyes, it may cause severe burns. This chemical is so dangerous, inhaling it can cause a severe sore throat that you'll be feeling for days to come.
Purehold Hygiene Door Handle from Green Facilities
As you can see, many cleaning products cause more health problems than they prevent. That's where Green Facilities comes in, especially with our Purehold Hygiene Door Handle Covers. These stylish little door handle covers can kill up to 99.9% of bacteria using silver ion technology.
Silver may sound like a strange substance to kill germs, but science has speculated that silver can be utilised to prevent the spread of bacteria for centuries. Recently, researchers have really begun to test this theory, and the results are amazing.
In a study performed by the University of Arkansas, researchers were able to get images of how bacteria responds to silver at a molecular level. The results were astonishing. The bacteria's paired DNA strands began to separate, and the bond between the protein and the DNA began to weaken. Researchers believe that silver might be able to fight off super bugs that are resistant to antibiotics.
Since 80% of most sickness is spread by touch, it only made sense to cover the objects we touch the most with silver ion materials. That's where the Purehold Hygiene door handle covers comes into play. Stainless steel may be easy to clean and look good, but the products used to clean are often harmful. Stainless steel is also an ideal breeding ground for bacteria. Since it's nearly impossible for most businesses to clean door handles every time someone touches it, this means the handles are harbingers of bacteria.
Our Purehold Hygiene door handle covers are proven to be 96.4% cleaner. Not only do you not have to worry about cleaning them frequently, but you also don't have to wonder what you just put on your skin.
Let us help
With the threat of Covid-19, things might seem a little scary, and keeping your office clean is now more critical than ever. That's where we come in. We offer other products to help keep your office looking and smelling great. We'll also do all the cleaning so you can focus on doing what you love. Contact us today for more information on how we can help you keep your office germ free in these uncertain times.