As a business owner, your livelihood hinges on your company's performance and industry reputation. One of the best ways to shine in both of these areas is to seek the services of an ISO-certified commercial cleaning company. With the help of experienced cleaning service to keep your office in pristine condition, your employees will be able to better focus on their duties and customer satisfaction will be higher. Below is a look at some key reasons why companies should make office hygiene a key priority and the top three benefits of hiring a trusted office cleaning service.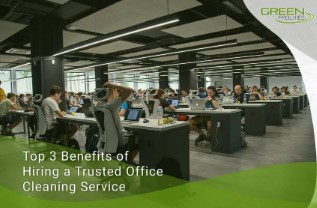 Why should companies invest in office cleanliness and hygiene?
Investing in office cleanliness and hygiene achieves several important goals. First, you are showing your employees that you value their health and well-being. Second, you are maintaining a safer, neater storage environment for your inventory and office equipment. And third, you are fostering compliance with health and safety standards that apply to your industry. In addition to achieving these goals, you can help prevent a variety of negative repercussions that can cause long-term damage to your business.
What are the consequences of having an unhygienic office space?
"One of the first things customers will notice about your front office is whether or not it's tidy and clean. Failure in this area often makes such a negative impression that a customer may not return, especially if yours is a healthcare practice." - Mary Strain, Small Business Chronicle
Working in an office space that is dirty or unhygienic can produce a host of unwanted side effects. In addition to being linked to increased absenteeism, a dirty workplace can have a negative impact on employee morale and your company's overall image. Here are some notable consequences of having an unhygienic office space.
Loss of customers: A dirty office environment can send customers away screaming. And their next stop might be your fiercest competitor.
Poor employee retention: Working in a dirty environment can lead to greater absenteeism and a higher rate of employee turnover.
A decline in cognitive performance: An unclean workspace can lead to cognitive declines among male and female employees.
Audit failures: When you fail to maintain a hygienic office space, you are more likely to fail regulatory audits.
What are the top three benefits of hiring a trusted office cleaning service?
A clean work environment can have a subtle yet powerful impact on your business. And when you hire a professional cleaning service to keep your office fresh and sparkling, you and your employees are able to devote all of your energy to attaining your company goals. As a result of seeking the services of a trusted cleaning agency, you will enjoy these three key benefits:
1) Improved employee health
"Laboratory studies have shown that cold and flu germs can remain on surfaces for 48 hours or longer – especially on surfaces like stainless steel, plastic and similar hard surfaces." - National Purity
A healthy, hard-working team of employees is the cornerstone of a successful business. But when flu season hits and one or two of your employees become sick, it can be difficult to prevent illness from spreading throughout your workforce. And with some cold and flu germs remaining on door handles, telephones, and other office property for 48 hours or longer, it may seem like you are fighting an uphill battle to keep employees healthy.
Fortunately, an experienced cleaning service can help keep dangerous germs at bay through regularly scheduled cleaning visits. Top area cleaning agencies will even provide you with supplies to help keep your office clean between professional cleanings. The end result is a healthier, happier workforce.
2) Increased productivity
Studies show that keeping an office clean can reduce the number of sick days employees take. Lower rates of employee absenteeism, in turn, pave the way for fewer interruptions in productivity and a healthier bottom line.
A certified local cleaning service can help you boost productivity by removing dust, dirt, and germs that can lead to illness and allergic reactions among employees. Leading cleaning professionals will also know which specially formulated chemicals to use to rid your office of harmful bacteria without damaging your electronics, carpet, wall hangings, or other office property. They can also offer cleaning equipment that can help you keep your office in top form on days they do not visit.
3) An enhanced company image
A squeaky clean office environment and a squeaky clean company image often go hand in hand. If your business has been sluggish or if you are looking for a way to delight customers and visitors, then you should consider hiring a cleaning service.
When you seek the services of a professional cleaning company, you send a message to your employees and visitors that you want to provide a healthful, safe, and enjoyable environment for them. In fact, some of London's top commercial cleaning services will even help you position your company as an eco-friendly business by training your employees to recycle office waste.
Selecting the best office cleaning service for your company
As outlined above, a reliable cleaning service offers benefits that go far beyond sparkling work stations and bathrooms. A trusted cleaning service can help your company gain a competitive edge through enhanced productivity and a better image. The key to your satisfaction is to select your office cleaning service with care, as not all office cleaning services are created equal. It is up to you to separate the best from the rest.
Fortunately, the Green Facilities team makes it easy for you to see why we are London's leading provider of specialist cleaning service. As an ISO-certified company and member of the British Institute of Cleaning Science (BICSc), our management team has decades of experience delivering five-star service to corporate clients in the UK.
We invite you to contact us at Green Facilities to discover why Rag & Bone, Five Guys, and some of London's other top businesses choose us to help them achieve a healthier workspace. We look forward to becoming your trusted office cleaning service!