Hiring a cleaning contractor your company can rely on is an important decision and can be a difficult task as there are so many things to consider. Cost is obviously an important factor, but it isn't the only one. When deciding between several commercial cleaning service providers, you will want to choose one that offers more than just a service that suits your needs and fits your budget.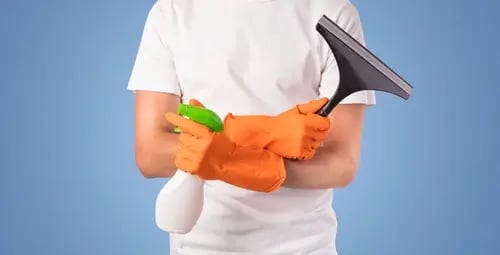 Check online reviews of the various cleaning services offered in your area in order to get a sense of the professionalism of the company.
If they do have any other contracts nearby this is could be a positive sign for several reasons. Firstly, you could easily pay a quick visit to the other business and see if their cleaning seems to be of the required standard. It might also be possible to have a quick chat with the person in charge of managing the contract for some honest feedback. Well-established companies are more likely to have in-depth knowledge of the requirements and most common concerns among London office and facilities managers, and companies with years of local experience are also more likely to provide additional services like audits, schedule reviews and offer personalised advice on how to improve cleaning operations, maximise efficiency and reduce costs.
The next step is finding out about a company's reputation and overall customer satisfaction ratings. Online reviews can complement website testimonials or case studies, but for a fair assessment you should go beyond that and look at the kind of conversation that cleaning firms are driving via social media sites. You can also ask the service provider about past customer survey results.
Are the products they use eco-friendly? Do they have systems in place to reduce unnecessary waste? Do they try and buy local products? Cleaning can cause a lot of damage to the environment with harsh chemicals and disposable products. Small initiatives, such as using microfibre cloths rather than disposable ones, can help to make a difference.
The final factor to consider involves considering whether a cleaning provider is accredited by independent third parties. The UK's cleaning industry the main certifications to look for include ISO9001, BSI, and UKAS, as having one of more of these confirms a company's ability to implement international standards in the local London market.
These questions are just a starting point. There are many other points you could also raise, such as their approach in the event of a staffing problem. It is always worth taking the time to research into a new cleaning company and, hopefully, the results will see the beginnings of a long and happy working relationship.