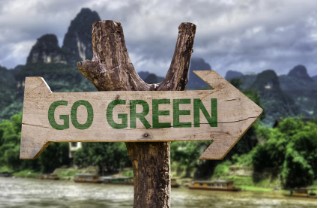 One of the most popular phrases heard in the commercial sector these days is 'green cleaning.' Consisting of ecologically conscious cleaning methods and products, green cleaning is intended to provide a safer environment. The Guardian reports that green cleaning methods involve fewer chemicals, which are notorious for causing rashes, respiratory distress, and chronic headaches. Additionally, there is the overwhelming concern that chemical cleaners creates long term hazards in the environment via air, water and land pollution. However, some wonder if green cleaning is just a fad, and if not, what they should expect to see in this trend for commercial cleaners.
Green Cleaning: The New Norm
Some wonder if green cleaning is merely a method that will lose its popularity in the next few years. Not the case, according to Services Building Service Contracting Industry and the BSCAI, following an interview with industry experts. Thanks to requirements by regulatory systems, such as LEED and CRI certification standards, green cleaning is becoming the norm. Green, for manufacturers, offices and governmental buildings, encompasses more than just cleaning methods. Going green includes everything from choosing eco-friendly paint and furnishings to optimising the use of outdoor lighting to reduce energy consumption. In addition to saving industries money on long term utility usage, going green creates a better environment to work in for individuals. So, yes, green cleaning is becoming the new norm that you can expect to see more of in the future.
Going Chemical Free
One of the largest focuses of green cleaning is the use of eco-safe cleaning treatments. According to the Occupational Safety and Health Administration (OSHA) in the US, green cleaning is defined as the use of cleaning products that are considered less harmful to one's health and the environment. In other words, you cannot use conventional cleaners including ammonia or bleach in green cleaning. Yet some industry experts say that even with green cleaning there is no way to completely clean without chemicals. On the contrary, green cleaning simply ensures that only safe chemicals are utilised. Other experts argue that it is entirely possible to clean without the use of chemicals. For example, the Norway company Norwex provides cleaning products that are considered green via microfibre cloths free of chemicals. Another company offering green products is Orbio, which has invented a salt-based steam cleaner used by companies in the Netherlands, the International Space Station and California universities including Chapman.
Green Cleaning Recognition for Your Business
In addition to regulatory agencies that set the bar for green environments, such as LEED, there are now industry awards doled out to organisations that follow through with green cleaning. The Ashkin Group, LLC is touted as the go-to group for all things related to green cleaning. The founder is considered the 'father of green cleaning,' having written several books on this form of cleaning. In order for commercial properties to increase their visibility in regards to being eco-friendly in the public eye, they can nominate themselves for a green cleaning award via The Ashkin Group. This designation can increase a business's visibility as being a leader in an eco-friendly environment. As a supporter of the British Institute of Cleaning Science, The Ashkin Group recognised as a leader in the green cleaning industry.
In Conclusion
The green cleaning world involves choosing safer alternatives for cleaning. While there is still a debate on whether green cleaning involves chemicals or not, the basic premise remains the same. Going green with cleaning is safer for the individuals involved, as well as for the environment as a whole. As the building and commercial industries push forward with healthier work spaces that use fewer natural resources, we can expect green cleaning to become more of the mainstream. The current concerns with going entirely green is the sheer cost of completely changing a commercial size cleaning system, as with the case of installing salt-based cleaners. However, as the green industry continues to evolve, the methods used for green cleaning, as well as green building, will become part of the norm.