When it comes to cleaning, and people hear "Green Cleaning" they believe it doesn't clean or an expensive cleaning. Eco-friendly cleaning products are perceived to offer a little return or too expensive, and with many low-cost alternatives, Most people in the industry are yet to be convinced to biological cleaners.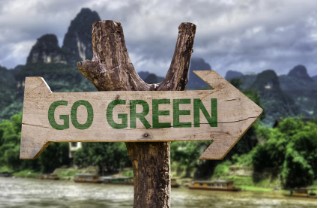 There are pros and cons to using both types of products; to help make the choice easier here we've compared these two types of cleaning products.
Cost
When green cleaning movement started, green cleaning products were expensive and not too efficient, creating a questionable perception. But over the last 5-10 years, Eco-friendly cleaning technology has improved exponentially and has become the new cleaning standard. Green Cleaning Products are better, more efficient and the selection of green product manufacturers has increased dramatically. In today's cleaning market, green products are readily available and often not expensive as the traditional cleaning product. Also, green cleaning products come in a concentrated solution that requires fewer product per application compared to the average traditional cleaner.
Impact on the environment
It goes without saying that one of the main benefits of using eco-friendly cleaning products is that they are better for the environment. They are designed to have environmentally friendly properties such as low, biodegradability, low toxicity and reduced packaging. They can also reduce harmful effects on building occupants by improving indoor air quality, reducing water and air pollution while also ensuring the effectiveness of cleaning in removing biological and other harmful contaminants from any building's interior.
You can also reduce the undesirable effects of improving indoor air quality, reducing water pollution and ambient air for building occupants, while the cleaning effect provided to remove contaminants Biological and other materials inside the building.
Effectiveness
Experts certify the fact that most green cleaning is as efficient and mostly more effective than traditional cleaning. Additionally, certifying organisations such as Ecolabel, Green Sticker and DfE, set performance standards for green cleaning products that must be met to be approved. The most common ingredients used in green sanitising products are hydrogen peroxide, citric acid, and lactic acid, which are all considered being safer antimicrobials than the chemicals used in traditional cleaning products.
If you'd like additional professional advice with no obligation, contact Green Facilities, a UK- based cleaning company headquartered in London. We offer cleaning consultancy, cleaning audits, contracted commercial cleaning services and one-off deep cleans. We take pride in delivering tailored cleaning solutions to fit your unique needs.