Nowadays, using sustainable, environmentally friendly practices in every aspect of your organization is one of the most important things you can do for your company. Half a century ago, the public was just beginning to learn about toxic chemicals in cleaning products for commercial or household use.
But in 2020, companies in the UK and around the world are being mindful of their impact on the environment by turning to eco-friendly cleaning products. Read on to learn how your business can benefit from using eco-friendly cleaning products. In addition, we've included a list of five eco-friendly office cleaning product must-haves for companies that are dedicated to sustainable practices.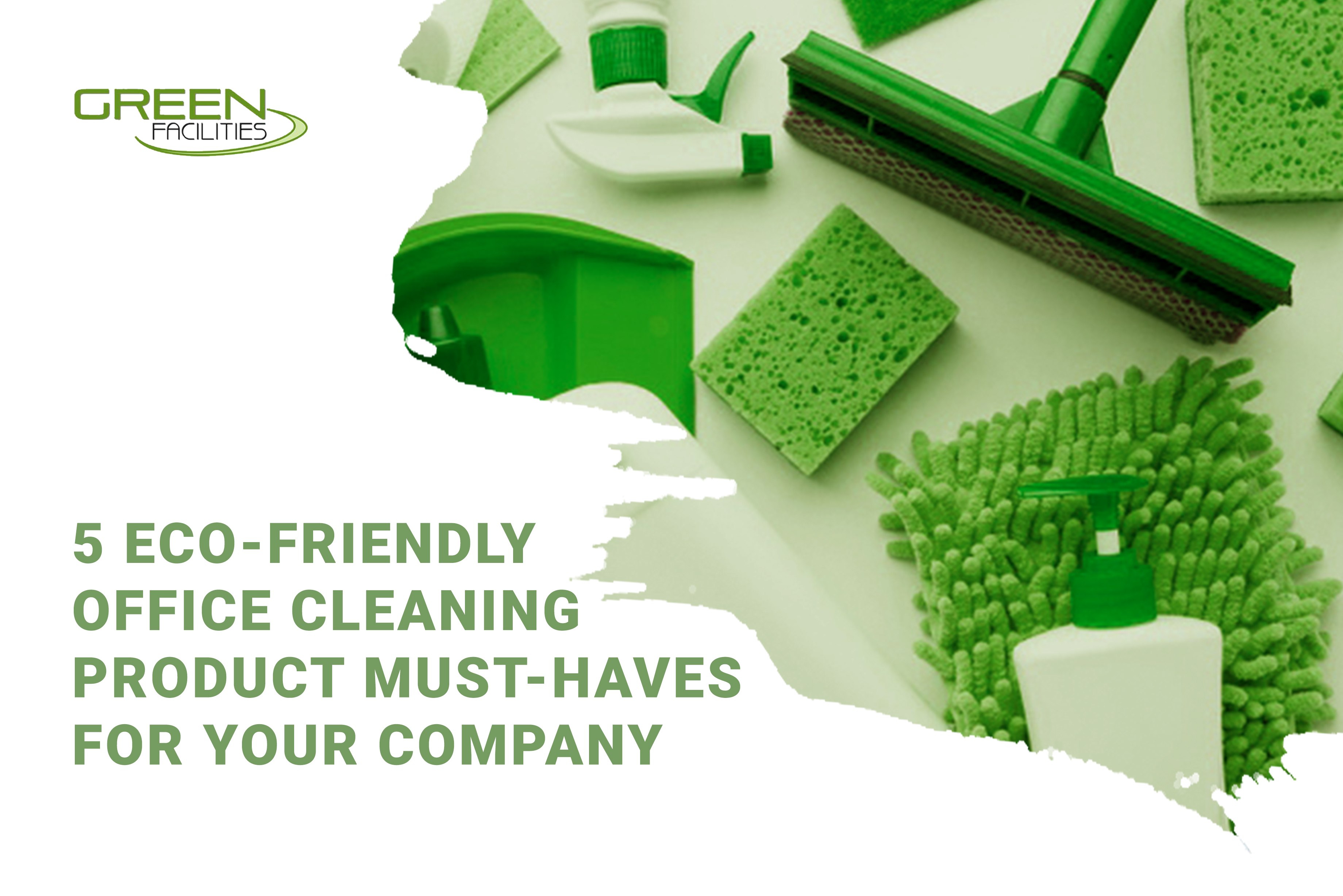 Toxins in mainstream products
Mainstream cleaning products contain toxic chemicals that are bioaccumulative, leaving traces that build up in the bodies of those who come in contact with freshly-cleaned offices each day. Other traditional cleaning products release volatile organic compounds (VOCs) that are hazardous to our health.
Toxic chemicals commonly found in mainstream cleaning products for commercial use are chlorine, ammonia, and formaldehyde. They've been linked with causing harm to users and/or to those who breathe the air in the area where there has been cleaning, such as asthma, rashes or other skin irritation, or harm to lung tissue, and some can contribute to chronic illnesses such as cancer.
5 benefits of using green products
1. Reduced risk of chemical-related injury
The EPA recently cited a Washington study showing that each year 6% of US janitors experienced injury due to the chemicals in the products they used on the job. Truly sustainable and eco-friendly products contain no harmful chemicals, lowering the risk of on-the-job injury among cleaning staff. You can also eliminate the risk of being held responsible for these types of illnesses and injuries that the cleaning staff may sustain when you use eco-friendly cleaning products.
2. Easily disposable
When you use eco-friendly products which contain no chemicals that are harmful to the environment, it's easier to dispose of leftover product. There are strict regulations on disposing of harmful chemicals which companies must follow, and the required steps necessary to ensure safe disposal can be time consuming and expensive for the company. So when a business buys green cleaning products or hires a company that uses eco-friendly cleaning products, it's a resource-saving decision that can hold down expenses in the long run.
3. Improved indoor air quality
Research shows that asthma-related symptoms and conditions are linked with using mainstream commercial cleaners. However, you can drastically improve the air quality in the office by using eco-friendly products. That way, when your employees arrive in the morning, they will not be inhaling the chemicals from cleaners used the night before.
4. Reduced spreading of germs
Office workers come in frequent contact with counter tops, handles, doorknobs, and office desk phone receivers, so these surfaces are consistently exposed to germs. Using safe, eco-friendly, certified organic, chemical-free products on high-contact surfaces can reduce the spread of germs around the office.
5. Less chemical buildup
Commercial cleaners can leave an accumulation of toxic chemicals over time -- from the chemicals used in your office carpet, to the biofilm that builds up on the floor, to the chemical buildup on mirrors and windows. That's why non-toxic, natural, and biodegradeable products are essential for your business's office environment.
By reducing or eliminating the accumulation of chemicals on surfaces, in carpets, and other areas in the office environment, your office employees will call in sick less, have healthier lungs, be exposed to less germs, and will enjoy a healthier, more productive work environment. Your employees will see and feel the difference.
Eco-friendly office Cleaning product must-haves
When it comes to using eco-friendly office cleaning products at your business, we recommend the following sustainable practices and habits: be sure that any product you use is free of dyes and fragrances. All ingredients should be biodegradable and low in toxicity. And whenever possible, they should be made with recyclable, renewable resources. Below are five-eco-friendly office cleaning product must-haves you'll want to take a look at:
1. Microfibre cloths and Ecoeggs
Recycling and staying away from disposable products is an important part of your company's commitment to supporting sustainable and eco-friendly processes. So having microfibre cloths onhand to for the cleaning staff is a definite must-have.
And for eco-friendly cleaning in the laundry, Ecoegg Laundry Eggs are laundry eggs that are both sustainable and long-lasting solutions to laundry detergents. They are plastic eggs you put in your laundry when you wash which contain natural mineral pellets that wash three years worth of laundry. They don't contain detergent, are suitable for those who have allergies or sensitive skin, and help reduce single-use plastic.
2. Tersano products (SAO)
Engineered water systems use technologies that allow companies to create and use chemical-free aqueous solutions for generalized cleaning and sanitation purposes. One type of engineered water is stabilized aqueous ozone. Tersano offers aqueous cleaning solutions in the form of stabilized aqueous ozone (SAO) to effectively clean and sanitize surfaces without chemicals.
3. Toucan Eco (ECA)
Toucan Eco produces a chemical-free general cleaning product made from electrochemical activiation (ECA), another example of an engineered water system. According to Facilities Show, ECAs were first produced in the 1970s as general sanitizers and disinfectants for commercial use. This 2014 Guardian article reports on the growing trend of ECAs chemical-free commercial cleaning processes.
4. Elements Organic Acid Restroom Cleaner
This product is a multi-purpose, organic, eco-friendly bathroom cleaner that cleans most commercial bathroom surfaces: tubs and showers, toilet bowls, urinals, walls, windows, and floors. It is acid-fortified and biodegradeable, so it won't cause buildup on surfaces or contribute to waste treatment plant sludge. In addition to tackling dirt, it effectively cleans away mold, mildew, soap scum, rust stains, fats, dirt, hard water deposits, and body oils. It's especially designed to work on ceramic tile floors and grouting.
5. EnviroCare Carpet and Upholstery Cleaner
Also appearing on the Janitorial Manager's list is EnviroCare Carpet and Upholstery Cleaner. This EcoLogo-certified product has a reduced environmental impact throughout its lifecycle while it effectively removes stains on upholstery, carpet, and other fabric.
About Green Facilities
We are the leading industrial cleaning company in London and Greater London, providing professional cleaning services for over 20 years. Our company is dedicated to delivering exceptional customer service, maintaining the highest standards, and using eco-friendly products to protect the health of the environment and the living things in it. To learn more about what our cleaning services can do for your business, please contact us.