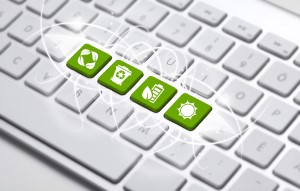 Maintaining office cleanliness doesn't only involve throwing away useless materials and cleaning floors. Keeping your workstations disinfected is a major part of keeping your workplace hygienic. It is one of the essentials in building a better immune system at the workplace.
Here are some tips for cleaning your workstations
• You should hire a cleaning service as they are experienced when comes to disinfecting your workstations. Keyboards are packed with germs so make sure you dip a Q-tip in disinfecting solution and then glide it over and in between keys
• In order to clean your monitor, use a cotton fiber cloth. Liquids should be avoided as they may cause damage to your screens. Your cleaning service will know how to clean out your equipments without causing any damage
• Always remember to clean underneath your mouse pad
• Employees can mark the calendar and carry out cleaning process every week. Disinfectant wipes can be used in order to do same
There are ample benefits of hiring a professional computer cleaning services such as reduced health risks and minimized employees' absenteeism. It keeps valuable computer hardware healthy and increases its efficiency. It helps to increase life span of your workstations. Therefore it is imperative that you hire a cleaning service for your office.
Contact Green Facilities at 0800 044 5795 for all your cleaning services. Mail us at info@greenfacilities.co.uk