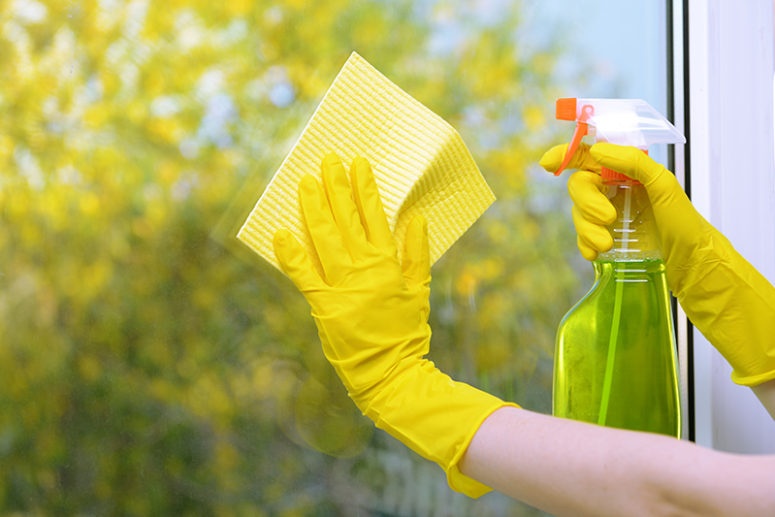 Finding an environment-friendly office cleaning company in London can be extremely time-consuming because, whilst many cleaning companies claim to be green, often they fall far short of the mark. Phrases such as "clean green" and "sustainable cleaning" are often used as buzzwords within the industry, so knowing how to distinguish between a genuine green London based cleaning company and a faux one is really important. It is not simply a matter of using environmentally friendly products, it is also about staff training, type of equipment used and certain essential procedures.
What type of cleaning products are used?
Just because the label says that a product is environmentally friendly, it doesn't necessarily mean that it is a good one. There are many cleaning items on the market that claim to be "environmentally preferable", however, it is vital that they meet industry standards. A cleaning company that is ISO14001 certified will only use products that have a minimum impact within your building and, although some companies might tell you that these products are much more expensive, this is not the case. Also, they will not cause damage to floors and carpets or create health problems for staff, which will, in the long run, actually save your company money.
Are the cleaning staff fully trained?
This is an essential step in ensuring that your cleaning company is green. Any professional, environment friendly office cleaning company will fully train its staff on how to use the cleaning materials, avoid excessive use of energy consumption and to understand the importance of waste removal. Ideally, all staff will be COSHH trained and they should be given in-house instruction, to include site induction and procedural duties; they should also constantly receive ongoing training. Your green cleaning company will preferably use a process such as Tele-Log to keep an eye on staff attendance, shift changes and time spent on the job. Ask to see certification and if the company can't provide it - find another.
Are different cleaning options available?
Bearing in mind that overnight cleaning necessitates the use of lighting when it would otherwise be turned off, you should ask whether the green cleaning company offers an early morning, evening and weekend service and, if not, find one that does? Also, as there are many jobs that could be carried out whilst staff are working, can the cleaning service provide someone to take care of rubbish removal, ensuring that walkways are clutter and slip-free and the cleaning of areas that are not in constant use; any work that can be carried out in daylight hours will save you money.
What 'green' equipment is being used?
It is important to check that your green cleaners are using energy efficient equipment; many companies claim that they are and then use standard products. Appliances such as vacuum cleaners with HEPA filters are essential as are steam floor cleaners that use a minimum amount of water. Waste material should be recycled wherever possible and, if your cleaning company says that they cannot do this, then it is time for a change. Information regarding creating a cleaner, greener office environment can be found in this excellent, free guide: Office cleaning, along with advice on how to be sure that you use only an environment friendly office cleaning company in London.
[cta id="1337" align="none"]