Are your employees and customers at risk of allergy attacks while working and doing business with you? According to AllergyUK, a staggering 44 percent of adults in Britain suffer from at least one allergy. That number has continued to rise over the past twenty years. For allergy sufferers at greatest risk, a minute trace of an allergen can trigger severe symptoms. Ninety-five percent of office workers who are allergic to substances in their workspaces said they had experienced allergic reactions while at work that ranged from sneezing to symptoms requiring medical intervention. Fatal and life-threatening reactions are not common, but they must be considered in planning and maintaining safe workspaces.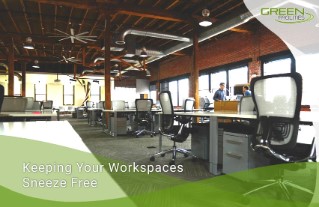 Under health and safety regulations, employers are legally obligated to remove or reduce, within reason, workplace risks. Allergens can be a workplace risk for susceptible people. While asking health questions during the hiring process may be deemed unlawful, potential employees should be informed of all possible known allergens in the spaces where they will be working. An employer may make reasonable adjustments to lessen an employee's exposure to allergy triggers. The employee should be proactive in revealing severe allergy triggers and appropriate on-the-scene treatment if an attack occurs.
If an allergy is severe enough to be classified as a disability under the Equality Act 2010, employers are obligated to make reasonable adjustments, and employees are protected against less favourable treatment. Serious allergies generally fall into the disability category. In these cases, the employee is entitled to all disability rights on the job.
Allergies affect productivity in the office
An employee who is feeling subpar will be less productive and more likely to make mistakes. Allergy symptoms range from the congestion of a slight cold to flu-like aches, crippling headaches, respiratory problems, and even hives and itching. These symptoms can lead to tiredness and lethargy. Frequent coughing and sneezing can disturb other employees and cause concern in customers who may fear cold and flu germs from an allergy sufferer who is not contagious. A raspy voice, wheezing, and coughing, all allergy symptoms, can interfere with effective telephone conversations and meeting presentations.
Severe symptoms often lead to work absences. An AllergyUK survey found that 42 percent of allergy sufferers questioned took sick time because their allergy symptoms left them too tired or ill to put in a full day's work. Fourteen percent of the respondents took between four and 10 days off work because of their allergies.
Common Allergy Hotspots
If an employee has an allergic reaction on the job, investigate the workspace for known allergy triggers. These include dust mites, mould, plants and flowers, carpeting, bookcases, clutter and other dust collectors.
Fragrance sensitivity is another concern and can cause serious reactions. Perfumes contain a complex blend of natural essences as well as synthetic chemicals. The average fragrance contains approximately 14 chemical ingredients that can trigger mild to severe allergic reactions in sensitive workers. Perfume, aftershave, and scented cosmetics are likely culprits but do not forget to check air fresheners and cleaning products. Many chemicals used in these products are highly unstable and oxidize when exposed to sunlight and air. The scent becomes stronger and the danger to sensitive individuals increases.
If your employees are not sensitive, consider the impact on clients and customers. Strong fragrances should be discouraged in the workplace. Even if they are tolerated by all employees, the scent could be offensive to some. Many workers will not express their dislike of a colleague's fragrance for fear of being rude and insensitive.
Removing Workplace Allergens
Employees who suffer from allergies usually do not need to change jobs to relieve their symptoms. You can be proactive in preventing allergic reactions and relieving some symptoms by taking the following actions:
Make sure the workplace is properly ventilated. If you do not have air conditioning, close the windows when the pollen count is highest, generally early morning and late afternoon;
About 34 percent of allergy suffers are allergic to pet dander, which can be brought into the office on pet owners' clothing. Cats are the worst offenders. Have a special place to hang coats and other outer garments that is well ventilated and away from workspaces and traffic areas. If a worker is sensitive to pet dander, make sure the employee is assigned a work station as far away as possible from any pet owners;
Employees' desks should be cleared, cleaned, and dusted regularly. Educate your workers that clutter traps dust. A wet dusting is recommended twice a week;
Be aware of mould on plants, particularly on the topsoil. Replace the topsoil often or use a layer of gravel over the soil;
Air purifiers reduce and remove allergens and are particularly important if ventilation is limited;
Have ventilation, heating, and air conditioning systems serviced regularly as advised by the manufacturer;
Carpeting should be vacuumed regularly to keep dust to a minimum. When it is time to replace the flooring consider a smooth surface that can be wet moped instead of carpeting;
The entire office should be cleaned thoroughly, regularly, and efficiently. Times will vary according to the traffic in the workspace and the type of work performed.
Encourage staff to drink plenty of water and other liquids as this helps to flush allergens out of the body. Make sure that water is readily available and, if the budget permits, free tea, coffee, and fruit drinks.
How Office Cleaning Experts Eliminate Allergens
You have important work to do, and cleaning the office is not number one on your to-do list. You will likely contract with a company to handle this end of your business. Just make sure that the company you use is dedicated to the deep and thorough cleaning techniques that reduce allergens and pay attention to neglected nooks and crannies that could be harbouring mould.
Green Facilities Management team has more than two decades of experience providing superior cleaning services to our corporate clients. We also off-set carbon footprints with our recycling solutions. We will be happy to train your employees with efficient recycling methods that will make your organisation a Greener company. Please contact us for additional information or to schedule a consultation. We look forward to doing green, clean business with you!