COVID-19 has changed our perspective on cleanliness. As restaurants and pubs are often allowed to remain open in a takeaway or delivery perspective only, facilities must be extra careful about cleanliness and disinfection.
Coughing and sneezing are no longer being perceived as allergies. As such, if you are a restaurant or pub owner, you must look at taking restaurant cleaning to the next level to keep everyone healthy. Healthy employees will ensure that you are able to stay in business, providing the general public with confidence that you're taking the precautions necessary to keep everyone healthy.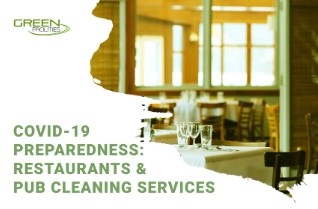 People are more aware of cleanliness than ever before. Everywhere they look, they're being told about how long to wash their hands for, what products can kill the virus, and when they should and shouldn't use hand sanitiser. To say that people are overly sensitive about cleanliness amid COVID-19 is an understatement.
Cleanliness for Employees
Employees inside of your restaurant or pub have to do a lot. Some employees are in the kitchen, preparing and cooking food. Other employees are dealing with the general public.
No one wants to get sick. Particularly amid COVID-19, people are in a panic of what shortness of breath or a dry cough could mean.
Cleanliness for your employees, all employees is important. It means cleaning surfaces more thoroughly, ensuring areas, where there are patrons coming in, are being sanitised, and that hand-washing stations are properly equipped with soap and sanitiser.
Your employees may be coming to work every day, but that is because they have faith that you are doing your part to keep the restaurant clean and safe for them. If someone gets sick because you didn't do your part with comprehensive restaurant cleaning, it can make many feel vulnerable. You could easily lose your staff if they feel as though they could get sick because of insufficient cleaning standards.
Cleanliness for Customers
Cleanliness for your customers is a little different because they're putting their trust in you. They know all about the rules regarding where they can and cannot go during the pandemic. As the government changes the regulations, the way that people interact with businesses also changes.
The takeaway is a common way for people to get food on the go without having to sit inside of a location. It limits the amount of human interaction they have since social distancing is a requirement.
Your customers are choosing you out of the many restaurants and pubs that are available. However, they want to see cleanliness everywhere they look. They also want to see you post signs about what you're doing to keep your location properly disinfected and sanitised to avoid the spread of COVID-19.
If someone doesn't feel safe entering your restaurant or going up to the takeaway counter during this crisis, it can cost you a significant amount of money. Especially in a time of social media reviews, all it takes is one person to announce that you're not keeping a clean location and it can ruin you.
It's why you have to rely on professional restaurant cleaning – your customers demand the best, and they can tell the difference between clean and not clean.
COVID-19 Cleaning Solutions
Germs are everywhere. As people are taught about social distancing and being constantly reminded to wash their hands, there's now the importance of taking your cleanliness to an all-new level. Wiping down tables and counters with a wet cloth isn't enough. You have to make sure that any trace of anyone who could have possibly encountered COVID-19 and, then, touched a surface in or around your restaurant is eliminated.
Consider all that needs to be cleaned throughout your restaurant:
Kitchen areas
Dining areas
Drive-through lanes
Floors and carpets
Restrooms
Outside eating areas
Working with a professional cleaning company ensures that you get the comprehensive cleaning services that you need. This includes using strong, eco-friendly products that can disinfect and sanitise surfaces properly.
Our staff is prepared to provide you with a new definition of clean: COVID-19 clean.
Nordic Chem® by Green Facilities Management
Green FM is now offering next-generation COVID-19 preventive cleaning services to various business sectors. Our product Nordic Chem is a revolutionary water-based, long-term antimicrobial coating, designed to inhibit the growth of microorganisms for up to 90 days after application. Once the coating has dried, it forms an invisible layer of "nano spikes" that penetrates the cell membrane and destroys them.
Due to these "nano spikes", the process of elimination is mechanical and not chemical in comparison with other long-term solutions such as silver, zinc and copper. It is tested to be effective against a wide range of viruses and bacteria including Coronavirus, creating an inhospitable surface for these dangerous microorganisms, keeping your facility safer for everyone.
What to Look for in a Cleaning Company
Particularly when you're dealing with COVID-19 and the added fear they have about being infected, it's not just about finding a cleaning company that will provide a certain list of services. It's about finding out how they're uniquely equipped to help provide the level of clean that you now demand.
Cleaning Services Certification
As a member of the British Institute of Cleaning Science, Green Facilities is learning about COVID-19 regularly. It allows us to know what needs to be done to clean facilities sufficiently so that we're not contaminating surfaces. Our goal is to use strong chemicals that will kill the virus if it's present while also choosing planet organic products.
High-Level of Cleaning
We are committed to the highest level of clean with all that we do. We understand that you always want to make a lasting first impression within your restaurant or pub. We have comprehensive cleaning services to take care of the dining areas and the behind-the-scenes areas.
Flexible Cleaning Schedule
With our flexible schedule, we can provide the cleaning that is needed so that everything is ready for your next shift. Depending on your volume of business and the size of your facility, we can make schedule recommendations to give you the cleanliness that you demand without it interfering with your ability to serve the general public.
Get a Free Cleaning Quote for your Restaurant
Your employees want to work in a clean environment. Your patrons want to see cleanliness whether they're doing a takeaway during a pandemic or eating in when we've gone back to normal. People can "see" cleanliness, which means you need to ensure that your restaurant or pub can pass a visual inspection.
You've always needed a clean restaurant. Now, you need to make sure that your restaurant is even cleaner. At Green Facilities, we're here to provide the level of sanitisation that you need to combat COVID-19 and provide peace of mind to employees and customers alike.
Contact us today to get your free quote for restaurant cleaning. Our preventive deep cleaning services ensure a hygienic & safe workplace for your employees and clients. Please call us at 0800 044 5795 or email us at info@greenfacilities.co.uk today.