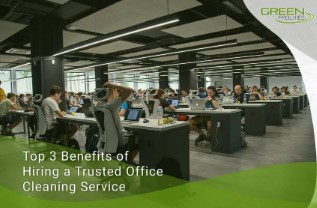 We all know about the one single fact that every customer of yours take for granted is the overall cleanliness of your office premises. Whenever we visit any storefront, office or restaurant, it's quite natural for us to expect it to be clean. Hiring office cleaning services in London will not only ensure the cleanliness of your office but will also have a positive impact on your employees:
A clean workspace is the key to better work productivity as it leads to less distractions and better concentration in your employees. They will be able to focus entirely on the work at their hands rather than being distracted by the clutter surrounding them.
Cleanliness is an important aspect of leading a healthy life. By hiring an office cleaning business, you'll get a clean office space that will lead to healthier employees and less sick leaves. The worrisome part is the bigger organization you have, the more employees will be working under you and more will be the chances of contagious diseases spreading in your office area.
There are a good number of office cleaning services in London that provide commercial cleaning at very affordable rates. Finding the right company will indirectly help you to increase the morale of your employees and organization. A clean workspace gives a fresh start to your day and hence enhancing your work productivity.
Contact Green Facilities at 0800 044 5795 for all your cleaning services. Mail us at info@greenfacilities.co.uk