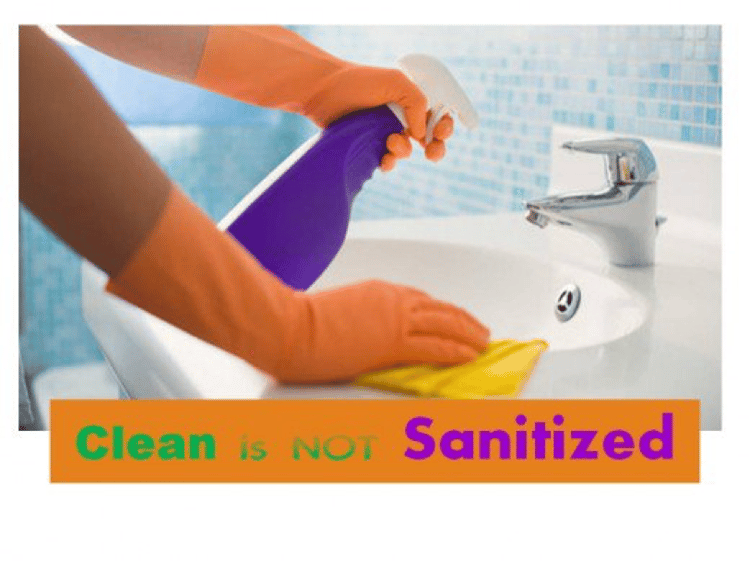 By definition:
Cleaning removes germs, dirt and impurities from surfaces or objects. Cleaning works by using soap (or detergent) and water to remove germs from surfaces physically. This process does not necessarily kill the bacteria, but by removing them decreases their numbers and the risk of spreading the infection.
Disinfection reduces the number of germs on surfaces or objects to a safe level, according to standards or public health requirements. This process works by cleaning or disinfecting surfaces or objects to reduce the risk of spreading an infection.
Many companies want their workplace to be clean; they know that a clean workplace is a structured and hygienic environment that keeps employees healthy and organized. It might look spotless at first glance. However, hiding in corners and crevices, which will inevitably miss with a slap-dash approach, will be a bacterial farm that can cause severe problems in the workplace, and that's the difference between a place of Clean and disinfected work obvious.
Disinfectants efficiently destroy 99.9% of bacteria, and quickly too! The chemical process is mainly used to eliminate germs and surfaces that are usually particularly difficult to shift. Most often in kitchens where surfaces must be sterilized to be suitable for food preparation and storage. But when applied to other environments, such as frequently visited work areas, sanitizers eliminate almost all the probabilities of bacteria spreading on surfaces that will be affected very frequently.
If you are currently cleaning your work environment without the help of a professional cleaning service, it is probably not as clean as it should be for maintaining health and hygiene. Sanitization and disinfection are massive improvements compared to occasional cleaning. They are a necessity to maintain a clean and healthy environment. But, to be appropriately done and professionally, hiring a professional commercial cleaning service is necessary.
A professional cleaning service will have the knowledge, equipment, supplies and experience to be in and out of a workplace on a regular basis. At unique clean, out expert staff are trained in workplace sanitization which has proved to keep a working environment hygienic and therefore optimal for the working conditions. Our service is effective, fast and guaranteed to keep your workplace whether it's an office, a school or a warehouse in the best possible condition for a reasonable price.
A professional cleaning service will have the knowledge, equipment, supplies and experience needed to clean and sanitize your workplace on a regular basis.
Green FM is an Eco-Friendly commercial cleaning company and can the cleaning services for your facility. Please contact us on info@greenfacilities.co.uk or call 0800 044 5795 for a free cleaning assessment.